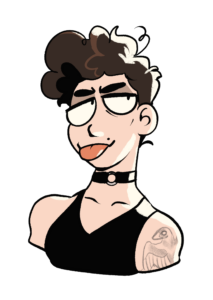 Tasha "Tas" Mukanik (said: mechanic) is a queer artist situated in Montreal, originally from Calgary. She lives with her partner, Winter Jay Kiakas, and together they own Windy & Wallflower, where they collaborate on way too many stories. She enjoys drawing comics and has worked on multiple projects, namely The Sanity Circus, her long-running webcomic. Her debut graphic novel is Lost Time which is set to be published by Penguin Razorbill in 2023. Her specialties are with pencils, flatting and colours, and her interests are in dinosaurs and hot monster women, of which you can probably find traces of in all her work.
Represented by Jen Azantian at Azantian Literary Agency 
Contact (publishing inqueries): jen@azantianlitagency.com
Direct contact: tm@windywallflower.com
(pronouns: she/her or they/them)
---
Prominent comic work:
Lost Time (coming soon). Middle grade graphic novel published by Penguin Razorbill.
Augustine (2022, rated 15+). Online comic, collab with Jay Kiakas. Pencils and colours. Readable here.
Paint the Town Red (2019-present, rated 16+). Collab with Jay Kiakas. Pencils and tones. Readable here.
The Magic Word (2021, rated 18+). Collab with Jay Kiakas. Story, pencils and colours.
The Sanity Circus (2014-present, rated 13+). Online comic. Readable here.
Castle Swimmer (2019-current). Flat colours. Readable here.
Sweaty Palms 2 (2018) "Aliens/Anxiety". Accepted entry into the Sweaty Palms anthology on anxiety.
A Tempo (2017). Collab with Jay Kiakas. Pencils and colours.
BadMouth (2016-2019). Colours. Readable here.
Damsels Don't Wear Glasses (2019). Colours on select pages. Readable here.
Kickstarters/Campaigns:
The Sanity Circus Volume 1 (2017)
Paint the Town Red Volume 1 (2019)
Paint the Town Red Volume 2 (2020)
Paint the Town Red Volume 3 (2022)