THE SANITY CIRCUS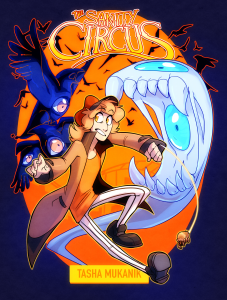 The Sanity Circus (often shortened to SanCirc) is a webcomic that has been running since 2014. It follows the girl Attley, and her friends Fletch, Steven, Posey and Nimbus as they explore the bizarre city of Sanity, where monsters lie in wait, circuses are magical, and instruments become people.
The comic is rated about 13+ (there is violence, swears, and body horror)
From the website:
THE SANITY CIRCUS is about a girl named Attley living in the very strange city of Sanity. Full of magic, monsters, and mystery, Attley is suddenly thrown into a dangerous situation when her friend turns out to be not quite human. Now she's seeking answers, and running into other bizarre people with their own problems– like a boy who can turn into a seagull, clowns with disembodied limbs, and instruments who become people. Just what is happening in Sanity?
You can read the comic online here.
Read more about it on the W&W site.
The comic was originally on SSP Comics, with a mirror on Tapastic. It was accepted by Hiveworks in 2018 and has made its home there. Volume 1 was Kickstarted in 2017.
Comic Pages
Chapter Cover Pages
Illustrations & Concepts